Thousands of schools and nonprofits have begun to Rethink Fundraising by collecting gently worn, used and new shoes for their cause. With a shoe drive fundraiser, there's no need to ask anyone for money, which makes it one of the most creative fundraising ideas around.
MASC is very proud to announce the partnership between the Maryland Association of Student Councils and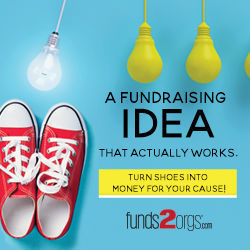 Funds2Orgs, which is the largest shoe drive fundraising company in North America and accredited by the Better Business Bureau. This partnership was created to offer to our more than 6,000 student councils a creative fundraiser that does not require people to donate money or to sell merchandise. Instead, with a shoe drive fundraiser, the student councils that participate ask their communities for gently worn, used and new shoes. Funds2Orgs issues a check for the shoes, so the more shoes collected, the higher the amount of the funds to your student council.
When you partner with Funds2Orgs, you get:
• A fundraiser with no out-of-pocket costs.
• Customizable marketing and promotional materials.
• A socially responsible fundraiser that re-purposes shoes, which helps the environment and people living in poverty in developing nations.
• A check issued to you within 2 business days of receipt and processing of the shoes.
A shoe drive fundraiser with Funds2Orgs has no out-of-pocket costs, and it helps our councils and students be global citizens and leaders in several ways:
1. Your student council can raise funds in a kid-friendly and community-wide way.
2. A shoe drive fundraiser is a socially responsible way to dispose of unwanted shoes in our communities and to repurpose them, which helps the planet.
3. The shoes collected are shipped to over 4,000 micro-entrepreneurs in developing nations who sell the footwear to help themselves out of poverty.
Curious about how your student council can get involved in this creative shoe drive fundraiser? Visit our special MASC informational page or call Funds2Orgs at 407-930-2979 for information (please be sure to mention MASC!)