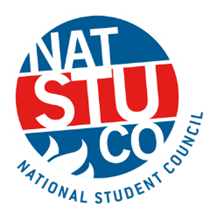 Due to the pandemic, it is possible that the 2021 National Conference will also be virtual….for information go to the NatStuCo website by clicking on the graphic on the left.
New information from NatStuCo: July 22-24

Over 3,500 students and advisers from around the country are already on board and excited about attending this year's FREE virtual National Student Council Conference, July 22–24. If you're still on the fence, allow us to answer some of the most frequently asked questions about this all-new experience.
Q: Do I have to be a National Student Council member to attend?
A: No—the conference is open to all middle level and high school students, their advisers, parents, and administration!
Q: How does group registration work this year?
A: We do not have group registration for this conference—students are welcome to sign up on their own or advisers can register their students individually.
Q: I don't know if I can attend live–should I still register?
A: Definitely. Sign up to guarantee access to all presentations and materials after the conference ends.
Q: Will I need to be online the entire day for all three days of the conference?
A: No. The conference schedule will not require an all-day commitment. Each day begins at 12:30 p.m. (ET), lasting three to four hours depending on the day's scheduled programming. Feel free to participate and engage as your schedule permits.
Q: Can I forward this email to others who may be interested in attending?
A: Absolutely! We're excited to bring as many student leaders and advisers together as possible.
Q: Should I attend this conference?
A: YES! Here's our question: With no costs or travel involved, why wouldn't you?
Deadlines for students and advisors:
Deadline to register:  Wednesday, July 15
Deadline for 3o minutes workshop presentations: Friday, June 26
Deadline for 20 minutes "meet the pros" presentations: Friday, July 10
Deadline for 2 1/2 minutes "parade of ideas" presentation: Friday, July 10  (Advisor platform – Golden Nuggets – 2 minutes) 
Deadline for 1 minute or less "what leadership is to me": Friday, July 10 (Advisor platform – Words of Wisdom to Student Leaders)
Presenter Information: click here to go to NatStuCo site
Conference FAQ;  https://www.natstucoconference.org/faq/
We are excited to announce that the 2020 National Student Council Conference will be moving forward as a FREE virtual event!
Registration for the National Student Council conference is now open – registrar quickly as there is limited space!
To ensure the first-ever virtual National Student Council Conference is the best possible experience for students, advisers, and all participants, this year's dates are shifting to July 22–24. The new dates allow us time to carefully craft this unique leadership experience—and it gives you and your members time to register for this FREE online event!
We're excited about the move to a virtual platform because it makes the conference accessible to students interested in the conference's valuable leadership training and engaging speakers, regardless of membership status or where they live — so spread the word!
Students can register on their own, or advisors may register for their students. We look forward to your attendance… from wherever you are!
Students and advisors will be able to share through 30-minute workshop presentations, 20-minute Meet the Pro's, and 2 1/2-minute Parade of Ideas
During the conference, we will be sharing information about virtual badging with the state executive directors for their association, and the executive directors will be invited to a private session with Rosalind Wiseman from the Culture of Dignity.
Please check the website as information is being updated regularly and let us know if you have any questions.
Let's see Maryland Represent!!!
The Speakers Showcase is an opportunity for attendees to preview outstanding speakers and trainers that address issues specific to middle level and high school students. This is also an excellent forum for speakers to gain national visibility for future speaking opportunities.
The goal of the Speakers Showcase is for conference attendees to:
Be positively impacted by a speaker's message and take their learnings back to their school to use immediately.
Recommend speakers for events in their states and schools.
This year's keynoters will inspire you to take your leadership to new heights!
Carlos Ojeda Jr.—former university administrator, professor, and small business development center director who now focuses his energy on empowering students to succeed by teaching them that their voice is their power  (Carlos was the motivational speaker at MASC's 2019 Convention!)
Rosalind Wiseman—founder of Cultures of Dignity and bestselling author of Queen Bees & Wannabes: Helping Your Daughter Survive Cliques, Gossip, Boyfriends, and the New Realities of Girl World—the book that was the basis for the movie and Broadway musical "Mean Girls"
Shaun Derik—speaker and performing artist who has dedicated his life to helping people reconnect with their passion and go after their dreams
This year's conference is virtual, more accessible than ever, and free! Elevate your leadership and sign up by July 15.