MASC Delegation to the NatStuCo Conference: June 20-24, 2020
Students wishing to attend the National Student Council (NatStuCo) National Conference need to commit, register, and submit a deposit no later than April 20th as hotel and plane reservations must be reserved (no refunds after this date as funds will be encumbered).
The annual National Student Council 2020 Conference is a unique opportunity for student council members and advisers from across the country to sharpen their leadership skills and build their peer networks.  This year's conference theme, "Rise Up and Lead," takes leadership to new heights in the Mile High City, where students will engage in valuable training, meaningful peer networking and increase the impact of their student councils. There's no better place for your student council members to boost their skills and leadership IQ!
The 2020 National Student Council Conference will be hosted by Eaglecrest High School in Centennial, Colorado, right outside of Denver, June 22–24.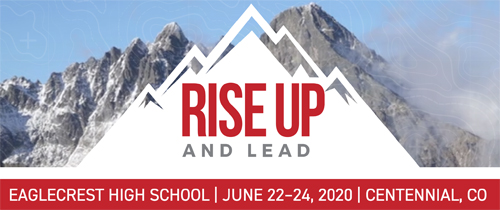 The 2020 theme is a nod to the Mile High City and the incredible power of student leadership.  National Student Council's (NSC) national and regional leadership conferences and programs feature nationally recognized speakers; engaging, high-energy sessions; and fun, hands-on training for both students and advisers.  Held throughout the year, NASC conferences and programs provide student leaders and advisors with the opportunity to meet face-to-face to share ideas and experiences and network with peers from across the country. Many conferences also feature valuable professional development credit hours for advisors.
Advisors: Action required by February 29, 2020
Advisers can save 50 percent on conference registration with promo code ADVISER20 through February 29, 2020. There's no better place for you and your students to reach peak leadership and experience elevated peer networking than the National Student Council Conference, and this registration discount can get you one step closer. Need extra support in your planning? Check out our Justification Toolkit.
"As an adviser attending the National Student Council Conference, I gained ideas to help improve our student council, school climate and culture, and things to help improve relationships amongst the staff. I would have never expected to gain so much to help me improve as a teacher and SCA adviser."
—Denise Glassford, NatStuCo adviser
Massaponax High School in Fredericksburg, VA
2020 Conference Registration Rates
Action required on or

before

April 20th 
(NOTE: this is only the registration rate – it doesn't include hotel, transportation, etc.)
| Who | Rate | Early Bird | Regular) |
| --- | --- | --- | --- |
| Student/Adviser/Administrator | Member | $379.00 | $409.00 |
| Student/Adviser/Administrator | Non-Member | $479.00 | $509.00 |
MASC pre/post-trip information for June 20-21.
TBD
Region 2 (NY, DE, NJ, PA, MD) Activity
Colorado Association of Student Councils (CASC)  Pre-Conference Dinner and Event
MASC approximate pre/post-trip and conference costs are $TBD (somewhere between $1,400-1,500??)   – Includes: registration fee for the conference at member/early bird rate, all transportation, hotel, pre/post-conference activities, CASC  pre-conference activity, chaperones, a special Region 2 activity, additional spending cash for miscellaneous meals, buttons/crab hats and conference tee shirts.
Registration Process:
1) As soon as possible, but no later than April 14th, please email your intent to attend to Karen.Crawford@mdstudentcouncils.org along with a picture or scanned copy of the signed parent agreement form. (detailed flyer and parent permission coming soon) Note – we are limited to the number of students that may attend due to chaperone ratios.
2) Complete this google form.
3) Mrs. Crawford will give you the MASC group registration code along with directions for registering for the conference on the National Student Council website. You must register and submit registration payment directly to the National Student Council (see costs listed in the chart above).  Please email Mrs. Crawford once this is completed and she will send you an invoice for the balance due directly to MASC.
4) On or before Saturday, May 30, 2020, send a copy of your MASC invoice and a check payable to MASC for $TBD.  Note: this remaining balance does not include the estimated costs for "meals not covered" or the estimated  "miscellaneous spending money" that students will bring for their own cash.   Checks must be hand-delivered to Mrs. Crawford (MASC executive board meeting on May 30)  or mailed to MASC, Registrar P.O. Box 343, Forest Hill, MD  21050.
5) If needed, we will have a parent and student meeting immediately after the May 30th executive board meeting for all students who are scheduled to attend this trip.   This meeting is at Parkdale High School in Prince George's County.  The meeting will take approximately thirty minutes, which is why it is in conjunction with another event (for transportation purposes!)
Any questions? Please contact  Nicete Moodie (Nicete.Moodie@mdstudentcouncils.org) and Karen Crawford (Karen.Crawford@mdstudentcouncils.org)