APPLICATION for the 2024-2025 State Student Member on the Board of Education (SMOB) AND Virtual SMOB Informational Webinar
Education Article §2202 of the Maryland General Assembly Statute authorizes the appointment by the Governor of a student member of the Maryland State Board of Education. Approved in 1985 and amended in 2007, this legislation specifies that the Maryland Association of Student Councils (MASC) shall have the opportunity to nominate two students for the Governor's consideration. One of these nominees will be appointed by the Governor to serve a one-year term as the Student Member of the Maryland State Board of Education.
The responsibilities of this position are extensive, so students should read, research, talk to the current and former state SMOBs, and consider carefully.  It is also HIGHLY recommended that interested students register and attend the virtual SMOB Informational Webinar (details at the bottom of the page).
Each public high school in Maryland is invited to nominate one student for this position. The student nominee must be regularly enrolled in a public high school, in good standing, and a junior or senior as of July 1, 2024 (meaning a current sophomore or junior).
Please carefully read the packet, observing the different deadlines and parts of the application.  There are no exceptions to deadlines as this is the selection of a public official.
Dates to Remember:
October 12. 2023                   SMOB Informational Webinar (7:00-8:00 p.m.)
November 20. 2023              School nomination forms uploaded (5:00 p.m.)
December 11.2023                 Completed application packets must be uploaded (5:00 p.m.)
December 11. 2023                Required recommendations completed (5:00 p.m.)
December 30, 2023               Nominees contacted about interviews
January 13, 2024                   Virtual Interviews for selected nominees
January 20, 2024                  Finalists – Personal statement and preliminary introductory speech deadline (5:00 p.m.)
Feb. 28-March 1, 2024         Up to Five Finalists present at the MASC Convention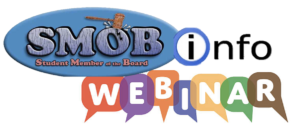 Virtual SMOB Informational Webinar (interest meeting)
As this event is over, interested students may reach out to Nicete.Moodie@mdstudentcouncils.org or Karen.Crawford@mdstudents.org for a link to watch a recording.  Lots of good information for ANY current sophomore or junior interested in this position.
Students interested in applying for this position (a school nomination is required), are STRONGLY encouraged to attend the virtual SMOB Informational Webinar at 7:00 p.m., on Thursday, October 12, 2023.  Abisola Ayoola, the current state SMOB, as well as immediate past SMOBS, will be facilitating this event.
Registration for the SMOB Information Webinar (interest meeting) closes on October 11th.  Registration Link: CLICK HERE
Maryland State Board of Education
Vision
Ensure all students have access to a world-class educational system that prepares them to graduate ready for post-secondary learning, rewarding work, and success in society and life.
Mission

Provide leadership, set policy, and advocate for continuous improvement of Maryland's educational system to achieve the following:

• Assist every student to realize his or her potential.
• Develop and support a strong accountability system to increase academic success for all students.
• Promote a safe, healthy, and orderly environment for learning and teaching.
• Ensure educator and administrative effectiveness.
• Promote students' physical, mental, social, and emotional well-being.
• Expand high-quality educational opportunities for students and parents.
• Work with districts to strengthen infrastructure.
• Increase communication and partnerships with stakeholders statewide.

HISTORY:
1985-86 Melissa Fuller, Woodward High School, Montgomery County
1986-87 Ellen Kimatian, Baltimore Polytechnic Institute, Baltimore City
1987-88 Kate Stainer, Oakland Mills High School, Howard County
1988-89 Shirley Leung, Bel Air High School, Harford County
1989-90 Justin Bekelman, Walt Whitman High School, Montgomery County
1990-91 Heather White, Gov. Thomas Johnson High School, Frederick County
1991-92 Jonathan Sims, Richard Montgomery High School, Montgomery County
1992-93 Jamie Kendrick, Howard High School, Howard County
1993-94 Allison Cole, Severna Park High School, Anne Arundel County
1994-95 Joseph Edmonds, Jr., Baltimore Polytechnic Institute, Baltimore City
1995-96 Tracy Tucker, Westlake High School, Charles County
1996-97 Tiffany Butcher, Winston Churchill High School, Montgomery County
1997-98 Ritchie Sharp, Westlake High School, Charles County
1998-99 Rebecca Gifford, Wilde Lake High School, Howard County
1999-00 David Iseminger, South Hagerstown High School, Washington County
2000-01 Aaron Merki, McDonough High School, Charles County
2001-02 Lauren McAlee, South River High School, Anne Arundel County
2002-03 Caroline Gifford, Wilde Lake High School, Howard County
2003-04 Christopher Caniglia, Thomas Stone High School, Charles County
2004-05 Brian Williamson, North Hagerstown High School, Washington County
2005-06 Josh Michael, Centennial High School, Howard County  (NOTE: Dr. Michael serving as an adult member 2023 – present)
2006-07 Brian Frazee, Thomas Stone High School, Charles County
2007-08 Renford Freemantle, High Point High School, Prince Georges County
2008-09 Danke "Derek" Wu, James M. Bennett High School, Wicomico County
2009-10 David Murray, Eleanor Roosevelt High School, Prince George's County
2010-11 Gayon Sampson, Tuscarora High School, Frederick County
2011-12 Nina Marks, Dulaney High School, Baltimore County
2012-13 Ebehireme Inegbenebor – New Town High School, Baltimore County
2013-14 Christian Hodges, Arundel High School, Anne Arundel County
2014-15 Stephen Priester, Manchester Valley High School, Carroll County
2015-16 Quinn Wandalowski, Smithburg High School, Washington County
2016-17 David Edimo, Richard Montgomery High School, Montgomery County
2017-18 Kyle Smith, North Point High School, Charles County
2018-19 Bryce Awono, Parkdale High School, Prince George's County
2019-20 Noureen Badw
2020-21 Jason Wu, Poolesville High School, Montgomery County
2021-22 Kevin Bokoum, North Hagerstown High School, Washington County
2022-23 Merin Thomas, James M. Bennett High School, Wicomico County
2023-24 Abisola Ayoola, Wilde Lake High School, Howard County