MASC is excited to be able to chaperone a small delegation to the National Vision Leadership Conference.  Illinois is proud and excited to announce that Collinsville High School in Collinsville, Illinois (about ten miles outside of St. Louis, centrally located with Lambert International Airport nearby and within a day's drive of 75% of the US) is hosting the VISION National Student Council Leadership Conference Monday, June 26 through Wednesday, June 28, 2023!  Kyle Gordon, the host advisor, is the student council advisor at Collinsville High School, and Associate Director-Illinois Association of Student Councils (IASC), and has previously hosted a national conference.  The theme is "Destination Leadership:  Where Dreams Come True" (Conference graphic to left – notice the hidden world-famous ketchup bottle and some horseradish, since Collinsville is the horseradish capital of the world.)
Link to the official VISION WEB SITE.  Registration opened in December 2022 and will close on May 15th.  Students must be registered by an advisor as part of a school or state delegation.  The MASC delegation will fly in on Sunday, June 25th to participate in the pre-conference social Sunday evening and fly out on the afternoon of June 28th after the conference ends.
Promotional Video:  https://vimeo.com/776880769/248e7c6f4f
Link to pictures from the 2022 Vision Conference (MASC Google Drive)
Social Media:
Basic Costs:  (details listed below)
• Registration Fee: $199
• Plane Fare ($600??)*
• Ground Transportation from Airport to Hotel (arriving) School to Airport (departing) $30 (approximately based on 8 students)
• Hotel: $129.40 (based on four students per room)
• Pre-Conference Social: $5.00
• MASC tee shirts/trading items: $100
Other Opportunities Links:
Community Service
– Student delegates will be creating Get Well cards for kids in pediatric hospitals in the region and dressing "Bear Buddies" to be delivered to those patients.  All delegates will have the opportunity to purchase a "Conference Bear Buddy" to take home as a souvenir. 
Order Your Souvenir Bear Buddy (must be pre-ordered – not available at the conference): Deadline May 15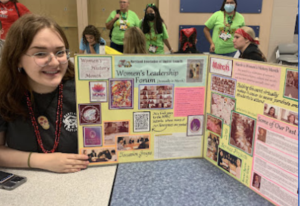 Students sign up to participate in the Hall of Ideas:  Deadline May 15
Do you have an amazing idea to share with the nation that you do at your school?  We want to hear from YOU! Please sign up below to showcase your idea at the Hall of Ideas in Collinsville!  You can also win a $100 gift card as a prize awarded that day! (Left – the MASC president shared information about MASC's Women's Leadership Forum in the 2022 Hall of Ideas.)
State Officers Summit – Also offered is an advanced leadership experience specially tooled for your state executive team!
Cost Details:
REGISTRATION – The registration cost for the conference is $199 per person which includes daily transportation to and from the hotels, all programming, lunch, dinner, snacks, daily gifts, and all entertainment during the conference.
PLANE FARE – *Prices of plane fares vary.  MASC allows students (parents) to book their own round-trip flight using accumulated travel miles, etc.  The MASC delegation will have a set time/location to meet at the airport in St. Louis to meet the pre-arranged ground transportation to the hotel.  For the trip home,  the conference adjourns at 11:00 a.m., and by the time everyone says goodbye, takes more pictures, collects their luggage from a holding room at the school, and picks up a "lunch to go," then boards the pre-arranged ground transportation back to the airport, the delegation will aim to get to the airport by 1:00 p.m. to catch flights home.
GROUND TRANSPORTATION – MASC will arrange with First Student Collinsville (school bus company) for transportation to and from the airport.  If possible, MASC will work with another state delegation to share a bus to save on costs.
HOTEL Cost $129.40 (assuming four per room for three nights) –  The hotel that MASC booked (LaQuinta Inn by Wyndham) offers a hot breakfast in the mornings as part of the hotel package.  The hotel is within ten minutes of Collinsville High School and there will be daily transportation to and from Collinsville High School during the conference.  All rooms are double-doubles.   MASC has three rooms available for our students – each room can house four students of the same gender.  (Room price is $115 per night plus 15.25% tax meaning $172,53 per night times three nights = $517.59 divided by four in a room = $129.40).
PRE-CONFERENCE SOCIAL
*A pre-party is being planned at the
Collinsville Aqua Park
on Sunday, June 25 from 6:00 p.m. to 9:00 p.m. with a DJ and is being offered at the total cost of $5 per person to all who wish to participate that are attending the conference! Transportation to and from our hotel is included in the cost.