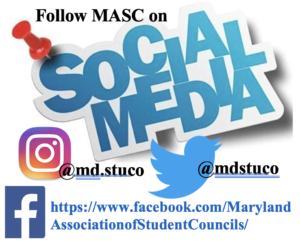 MASC appointed staff requesting social media posts should submit the request seven days prior to the target posting date if graphics need to be created – four days if graphics are also included. MASC is happy to repost any regional or student advocacy organization post, if it applies to the entirety of MASC. However, we will not be creating posts for individual regions and advocacy organizations. Any request made by individual regions submitted via the Regional Advisor, or relevant advocacy organizations, must include independently created graphics.   Link to Google Form
PUBLICATIONS
The Maryland Association of Student Councils strives to keep members up to date and informed about upcoming events, ongoing initiatives, and actions of the executive board.
MASC has several publications to help students and advisors stay "in the know" for all things MASC!
• The Bulletin (published at the beginning of each month) includes a brief synopsis of upcoming events, leadership opportunities, and other resources.  Links to details enable you to further investigate the items for which you might be interested.  To subscribe to the Bulletin, please complete this brief  Google form.
• The Monthly Briefing (published in the middle of the month) highlights MASC staff and regional student leaders. (Written by the Student Publications Coordinators)
• The MASC Newsletter is a more in-depth quarterly seasonal newsletter. (Written by the Student Publications Coordinators)
To subscribe to the Monthly Briefing and the Newsletter, go to this subscription page: https://mdstucopublication.wixsite.com/website

Please sign up for the MASC alumni list – periodically, MASC will send an alumni bulletin with news and updates!  Link to Alumni Google Form
Archived copies of all publications can be found on the MASC Documents Page (click here).